Leg 5, Race 8, Brisbane to Singapore – Part 1
Henri Lloyd in Race 8 (with Anita on board) started in second place overall with 68.9 points to the leader One DLL with 71 points. This race will have different starting rules which I don't profess to understand! They will be doing a Le Mans start. Here's some news from Clipper about Race 7 and the planning for Race 8.
Rivergate Marina and Shipyard in Brisbane has been a hive of activity today as more yachts arrive and deep cleans and maintenance are in full swing, together with emotional reunions with crew, family and friends.

PSP Logistics arrived around midnight after retiring from Race 7 with rigging problems, which are being addressed today by the maintenance team. Skipper Chris Hollis said: "We'd hoped to nail it on this race but it clearly wasn't meant to be. But we've still got four legs and nine races to go."

Qingdao finished over the line at 21.11 local (11.11 UTC) and got stuck into its deep clean immediately on arrival in the early hours. Qingdao went to the assistance of Mission Performance with a medical emergency just after the start from Hobart and has received redress from the Clipper Race Committee of twelve hours 23 minutes. This essentially brings their finish time forward to 22.48 UTC on 7 January, placing the team ahead of boats which finished after this time – resulting in seventh place.

"We didn't hesitate in going to assist Mission Performance as soon as we heard her distress call," said skipper Gareth Glover. "It was a tough race after we resumed but the team performed well despite releasing a couple of our people to Mission Performance to replace their two injured crew."

A few hours later the Qingdao team joined other well wishers to cheer in Mission Performance (pictured) which had raced all the way to pick up three valuable points, crossing the line at 03.36 local (17.36 UTC). Skipper Matt Mitchell said: "Everyone put in a great performance through challenging and variable conditions. I'd like to thank Gareth and the crew who volunteered to join us from Qingdao; they've been great."

Derek Furniss was reunited with the Mission Performance crew following his medical evacuation at the beginning of Race 7 after he sustained a head injury and was unconscious for several minutes, causing great anxiety for the entire team. There was clear relief to see him back fit and well. He said: "It's been very emotional. I've been with these guys since mid August and it's been awful to be separated from them. They're like a second family to me so it's great to be back."

Henri Lloyd is expected to arrive into the marina late afternoon local time. The yacht started a day later than the rest of the fleet due to the delayed completion of essential maintenance and decided to take average points for Race 7 and make best speed to Brisbane by motor-sail. They will be awarded 9.9 points.

Some boats are also being lifted here due to problems developing with some of the rudder bearings; four boats will have these bearings changed in Brisbane as a precautionary measure.

It's also crew changeover day with Leg 4 crew saying their final farewells and Leg 5 crew settling into their new homes for the next two months. Welcome drinks beckon for them this evening ahead of the official Race 7 prizegiving tomorrow (Friday) evening.

Thoughts are already turning to Race 8 and a return to ocean racing after the more 'coastal' sprints of the Sydney-Hobart and then up to Brisbane. The race up to Singapore is one of the most testing races of the global circuit and will push skippers and crews to their mental and physical limits for the Old Pulteney Navigator Cup. More details on the race and its sponsor will be released over the next few days.
It's very interesting that some boats are having the rudder bearings replaced as a precautionary measure but no news of which boats!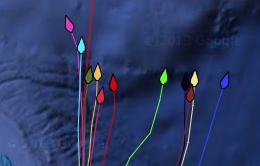 As this race started with a Le Mans style start, there wasn't one boat that was first "past the post". It became obvious fairly quickly that about five boats (Henri Lloyd among them) went further east before making for a northerly course. At one point there were two distinct groups with the easterly group behind. These skippers understood that it would take them out past the strongest current and into some relief. It would also take them off the straight line course so would initially be a losing move. It might just be possible to count only 11 boats. Mission Performance had to return to Brisbane from the start point because of a problem with their 240V electrical system. They were met there by the fleet engineer who attended to the problem. All attempts at resolving the issue remotely had failed. Mission Performance returned to racing after 24 hours.
We finally, on day 3, have some news of Anita. We've been wondering if she succumbed to sea sickness and how she is coping. Sarah has posted her news directly from Henri Lloyd.
More news to come as the race develops – it's a long race! Watch this space.
---
© Anita Davies and http://anitasailsagain.com The blog post above first appeared on http://anitasailsagain.com, and is subject to copyright. If you can see this message it probably means that the content has been copied without permission, in violation of that copyright. To see this post within the context that was intended, please enter http://anitasailsagain.com into your browser.
Full copyright notice, as displayed on site:
© Anita Davies and http://anitasailsagain.com, 2013. Unauthorized use and/or duplication of this material without express and written permission from this blog's author and/or owner is strictly prohibited. Excerpts and links may be used, provided that full and clear credit is given to Anita Davies and http://anitasailsagain.com with appropriate and specific direction to the original content.
---

AnitaSailsAgain
by
Anita Davies
is licensed under a
Creative Commons Attribution-NonCommercial-NoDerivs 3.0 Unported License
.
Based on a work at
https://anitasailsagain.com
.