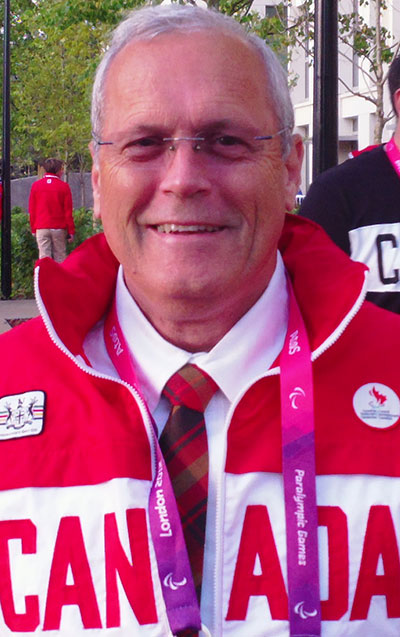 Reg Chappell BA, Founder, President and High Performance Coach of Ducks Swimming.
Reg is Dad's cousin who lives in Toronto, Canada. He was the 2012 Canadian Paralympic Swimming Coach.
Reg first learnt of my dream to take part in the Clipper Race in April 2012 when we met up during his visit to see the facilities for the Paralympics. He was very supportive and told me I would need to be fit!
However, it was during Reg's visit for the Paralympics themselves that I told him that I had passed my Clipper interview and he immediately offered to help with my fitness training – via email of course!
As the Canadian Paralympic Coach he was responsible for all of the swimming team, but especially coached World Record holder and World Champion Summer Mortimer. She won four medals (2 Gold, 1 Silver, 1 Bronze), and set new world records for the Women's 100 metre Backstroke S10 and 50 metre Freestyle S10.
In recognition of the success of his efforts, Reg has received several awards:
Queen Elizabeth II Diamond Jubilee Medal
Canadian Coaches Association Award of Merit
Canadian Paralympic Female Swimming Coach 2012
Ontario Paralympic Female Swimming Coach 2012.
However, most recently he has been awarded the Ontario Male Coach of the Year, an achievement he was not expecting as it encompasses all coaches, all sports and all levels.