Leg 5, Race 8, Brisbane to Singapore – Part 5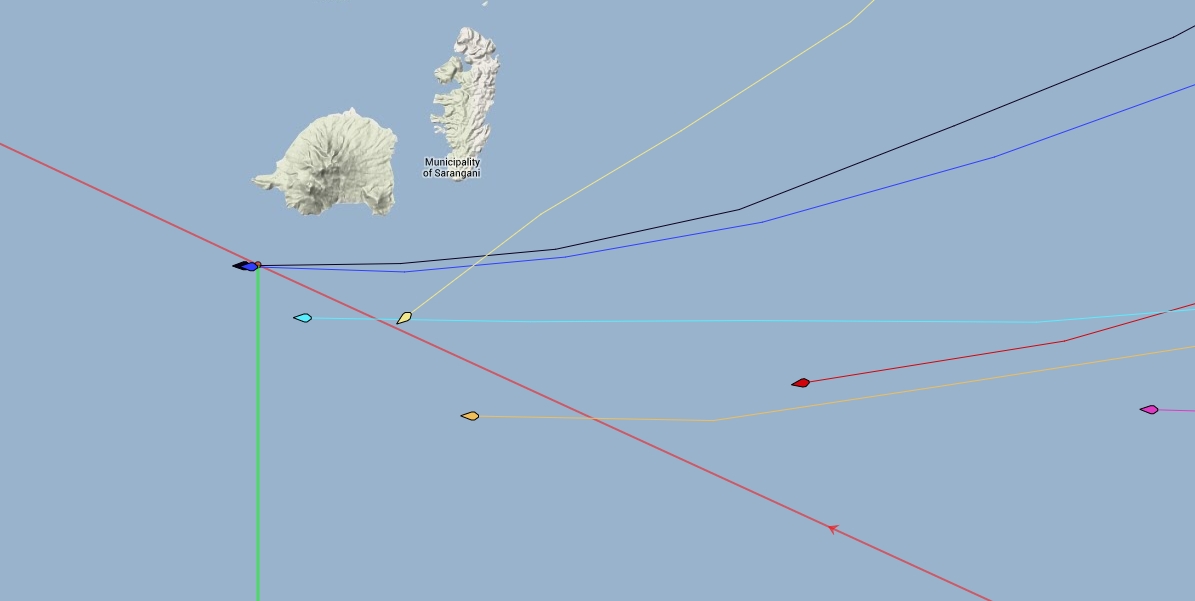 I thought you all might like to know what has been happening since January!
First of all, some background information. Race 8 is divided into two parts, Race 8A and Race 8B. These are separated by a motor sail section. This is described far better by Clipper!
The Clipper Race fleet is converging on the Sarangani virtual mark which was brought forward from the original Race 8A finish line at the Basilan Gate a week ago due to the slow progress of the fleet following unseasonable weather conditions.

——–

The fleet will then motor sail to the planned restart in the South China Sea.
The overall scoring for Race 8 will be the total sailing time for 8A plus 8B.
Henri Lloyd has just passed the finish line for Race 8A in first place!! It was a very close race with GREAT Britain a mere 4 boat lengths behind Henri Lloyd. What an experience for Anita?
I have been watching Henri's progress very closely and was very concerned to see that they were going backwards again! I managed to find out why (but it's a little worrying for a Mum)! Three hours lost!
News from Sarah, 4th Feb
If you happened to be watching the race tracker between 8 and 11 (our time) last night, you probably wondered what on earth we were up to. Would you believe it if I told you Father Neptune appeared out of the sea, riding on a conch shell towed by 8 white dolphins, each bearing a singing mermaid on its back; and that 8 more dolphins seized all our spare lines and took us for a magical mystery tour of his magical kingdom? No, I didn't think so. What actually happened as we finished our bacon sandwiches to the backdrop of a beautiful sunset on deck, was another real life 'pirate drill' as we started the engine and powered away from a motor vessel that seemed to show a little too much interest in us. Most likely they were just curious, you probably don't see 70 foot racing yachts around here every day, but in line with Clipper Race policy we played it safe and got where they couldn't see us anymore, before motoring back to the exact same spot and resuming racing about three hours later. As an extra precaution we decided to keep all nav lights off last night, and not to use lights on deck – which explains how the spin halyard got caught on the spreaders during our 5am hoist. Everything was calm and orderly throughout, excellent practice for a scenario I hope we never really encounter. So nothing to worry about, though I'm sure by the time we get to tell the whole story in a bar on dry land somewhere, it will have become much embellished. And no, we have not broken our rudder bearings again, no anything else important (touch wood).
Another slight problem here as well.
Eric Holden – Day 22
This morning we had a misadventure with a long floating polypropylene line that caught itself on our bow, keel, and rudders. It was stuck fast and we had to douse the kite and heave too in order to slow down the boat enough to disentangle ourselves. At first We were concerned that we were cutting someone's fishing net and their livelihood and we were looking around anxiously for the fishing boat, though it turned out to be a knotted mess of line that was cast away and adrift. It smelled foul due to the growth of weed and little crabs on it. We were tempted to toss it back but then remember that we are ocean crusaders and the rope, being of plastic construction, does not belong in the ocean so we are transporting it to shore. We were already a bit dismayed with the amount of plastic bottles and Styrofoam that we've seen floating by, seeing more of that than any sort of wildlife.

Unfortunately that little escapade used up the last of the good wind we had and it has been slower going ever since.

We are just passing the 225 mile mark to the finish and this race is so close with boats closing in from the north and the south. This race is anyone's for the taking and it may be as close as any of the races thus far.
So, in spite of these setbacks and lack of wind instruments, Henri Lloyd did it again 🙂
---
© Anita Davies and http://anitasailsagain.com The blog post above first appeared on http://anitasailsagain.com, and is subject to copyright. If you can see this message it probably means that the content has been copied without permission, in violation of that copyright. To see this post within the context that was intended, please enter http://anitasailsagain.com into your browser.
Full copyright notice, as displayed on site:
© Anita Davies and http://anitasailsagain.com, 2013. Unauthorized use and/or duplication of this material without express and written permission from this blog's author and/or owner is strictly prohibited. Excerpts and links may be used, provided that full and clear credit is given to Anita Davies and http://anitasailsagain.com with appropriate and specific direction to the original content.
---

AnitaSailsAgain
by
Anita Davies
is licensed under a
Creative Commons Attribution-NonCommercial-NoDerivs 3.0 Unported License
.
Based on a work at
https://anitasailsagain.com
.