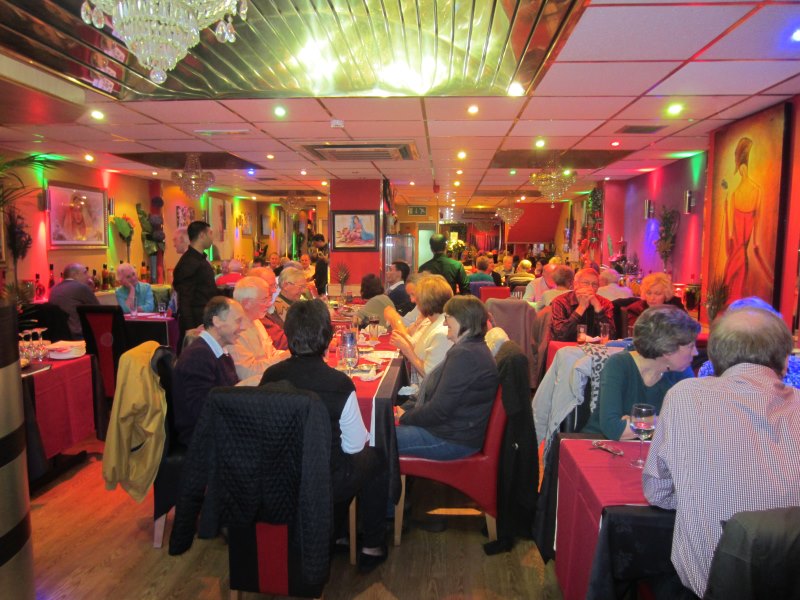 …at the Indian Dream restaurant.  Between us we had sold 53 tickets in advance of the event. However not everyone turned up but they'd all paid so that meant more money for the charity.
I travelled up by train straight from work on the Monday afternoon and straight back to work again on the Tuesday morning to minimise the amount of leave I needed to take.
Dad had devised a seating plan designed so that everyone was on a table with friends old and new – including some reunions!
A birdwatching mate came who hadn't seen others since he started a family 10 years ago;
some of Dad's past workmates from the British Gas Midlands Research Station some of whom hadn't met for nearly 20 years;
two of my instructors from the local Sea Ranger and Cadet Sea Ranger crew SRS Vandyck whom I'd not seen for more than 20 years!!
Members of Birmingham City Choir were meeting with the wife of a new member who was at university with a current member.
Other choir members and friends made up another 2 tables and Dad's keep-fit friends another. There were also others, including some clients of the Foundation for Conductive Education.
The seating plan needed a bit of tweaking at the last minute, when we realised that if the restaurant provided the tables as requested, there would not have been enough room for the waiters to serve the food! We couldn't have that. I was far too hungry!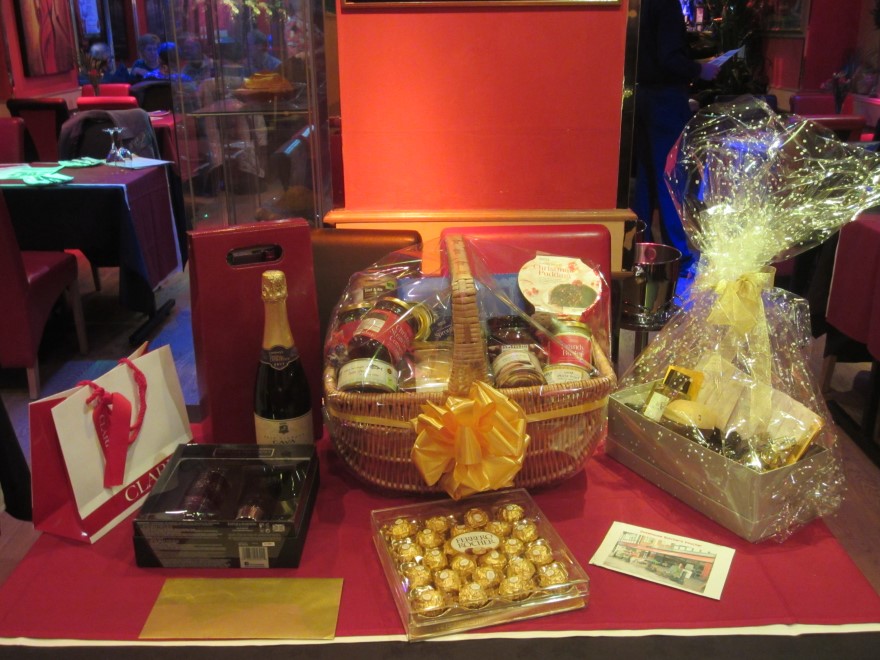 Mum had spent a lot of time before the event gathering prizes donated by local businesses for the raffle. This raised £195, which will go towards my berth fee.
Everyone had a good time judging by the constant chatter, the empty plates (signifying an excellent meal!), and smiles all round! You can see this in the pictures below.
The evening raised £580 for the Foundation for Conductive Education, so thank you to everyone who contributed, whether you attended, donated a raffle prize, or were the staff in the restaurant!
---
© Anita Davies and http://anitasailsagain.com The blog post above first appeared on http://anitasailsagain.com, and is subject to copyright. If you can see this message it probably means that the content has been copied without permission, in violation of that copyright. To see this post within the context that was intended, please enter http://anitasailsagain.com into your browser.
Full copyright notice, as displayed on site:
© Anita Davies and http://anitasailsagain.com, 2013. Unauthorized use and/or duplication of this material without express and written permission from this blog's author and/or owner is strictly prohibited. Excerpts and links may be used, provided that full and clear credit is given to Anita Davies and http://anitasailsagain.com with appropriate and specific direction to the original content.
---

AnitaSailsAgain
by
Anita Davies
is licensed under a
Creative Commons Attribution-NonCommercial-NoDerivs 3.0 Unported License
.
Based on a work at
https://anitasailsagain.com
.