Solihull News: Anita's fighting fit and ready for the high seas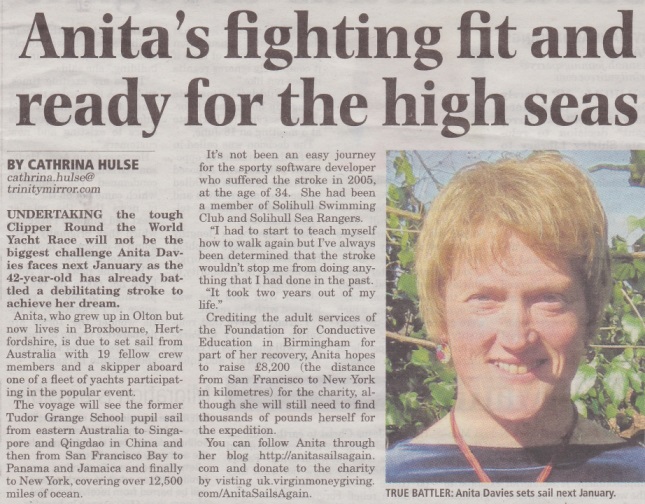 BY CATHRINA HULSE
19 July 2013
UNDERTAKING the tough Clipper Round the World Yacht Race will not be the biggest challenge Anita Davies faces next January as the 42-year-old has already battled a debilitating stroke to achieve her dream.

Anita, who grew up in Olton but now lives in Broxbourne, Hertfordshire, is due to set sail from Australia with 19 fellow crew members and a skipper aboard one of a fleet of yachts participating in the popular event. The voyage will see the former Tudor Grange School pupil sail from eastern Australia to Singapore and Qingdao in China and then from San Francisco Bay to Panama and Jamaica and finally to New York, covering over 12,500 miles of ocean.

It's not been an easy journey for the sporty software developer who suffered the stroke in 2005, at the age of 34. She had been a member of Solihull Swimming Club and Solihull Sea Rangers. "I had to start to teach myself how to walk again but I've always been determined that the stroke wouldn't stop me from doing anything that I had done in the past. "It took two years out of my life."
Crediting the adult services of the Foundation for Conductive Education in Birmingham for part of her recovery, Anita hopes to raise £8,200 (the distance from San Francisco to New York in kilometres) for the charity, although she will still need to find thousands of pounds herself for the expedition.
---
© Anita Davies and http://anitasailsagain.com The blog post above first appeared on http://anitasailsagain.com, and is subject to copyright. If you can see this message it probably means that the content has been copied without permission, in violation of that copyright. To see this post within the context that was intended, please enter http://anitasailsagain.com into your browser.
Full copyright notice, as displayed on site:
© Anita Davies and http://anitasailsagain.com, 2013. Unauthorized use and/or duplication of this material without express and written permission from this blog's author and/or owner is strictly prohibited. Excerpts and links may be used, provided that full and clear credit is given to Anita Davies and http://anitasailsagain.com with appropriate and specific direction to the original content.
---

AnitaSailsAgain
by
Anita Davies
is licensed under a
Creative Commons Attribution-NonCommercial-NoDerivs 3.0 Unported License
.
Based on a work at
https://anitasailsagain.com
.